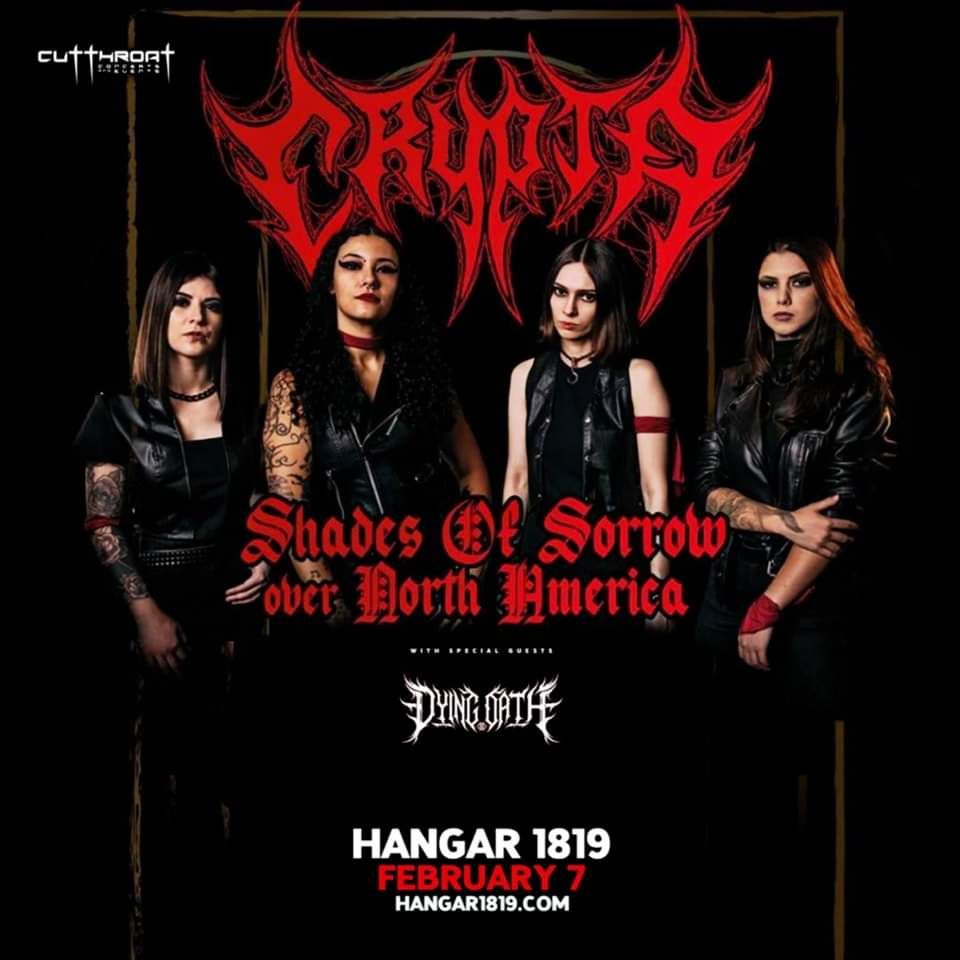 NEW SHOW ANNOUNCEMENT
Crypta with Dying Oath February 7th
🚨ANNOUNCEMENT🚨
We are honored and excited to announce that we will be supporting the Brazilian phenomenon known as CRYPTA on their NC date for the Shades of Sorrow over North America tour at Hangar 1819! We have physical tickets, so please contact us here to get yours today!
Latest News
TOUR DATES ADDED FOR "THE BLACK HALLOWS TOUR" with - Raven Black, Cultus Black, Casket Robbery, CMBWC.
10-19 - Lovedrafts - Mechanicsburg, PA
10-20 - The Vortex - Akron, OH
10-21 - To Be Announced
10-22 - The King of Clubs - Columbus, OH
10-24 - To Be Announced
10-25 - Leftys - Des Moines, IA
10-26 - Underground Music - Minneapolis, MN
10-27 - The Back Bar - Janesville, WI
10-28 - The Music Factory - Battle Creek, MI
10-29 - TBD
10-31 - 89th Street - Oklahoma City, OK
NEW MUSIC COMING 2-24-23
We would like to welcome HOGAN GAMMONS as Dying Oaths new drummer!  Hogan is well known in the scene as one of the top drummers
in the area and has brought his talents to the Dying Oath family!
NEW SHOWS ADDED!!!
Make sure to check our shows section for all current Dying Oath Dates \m/ 
DYING OATH WAS JUST OFFERED A HEADLINING SPOT ON THE APOCALYPSE IN THE DESERT METAL FESTIVAL held in LAS VEGAS NEVADA!!!
GREAT NEWS!  Dying Oath been given the opportunity to return for a second consecutive year at one of the countrys biggest rock fests!  Blue Ridge Rock Festival 2022 alongside acts like: Slipknot, All That Remains, Kittie, In Flames and many MANY MORE!
Booking for 2022/2023 is underway!  Go to the contact tab and shoot us a message if your interested in bringing Dying Oath to a show!
Shows tab has been updated to reflect new and current dates.
Unfortunately, Jakob Green will no longer be Dying Oaths Co-vocalist.  Stepping up to take his place is the MIGHTY Nestor Idler formerly of Asheville Powerhouse Nova Omega!
After weeks of grueling tryouts, Dying Oath have Selected Sean Stafford as their drummer and newest addition.
Auditions have been held and a new bassist has been chosen!  Congratulations Kristen!
We unfortunatly were forced to cancel our remaining 2021 shows due to Covid-19.  Safety is paramount for all of our amazing followers.
Metal in the Mountains and Blue Ridge Rock Festival are in the books!  Both shows were absolutely life changing.  Thank you to everyone who has supported us up to this point!
Check our fan group "Dying Oath Family" on facebook for all kinds of behind the scenes photos and content!
Booking for 2024 has begun!  For booking inquiries, please send us a message using the form in the "Contact" tab
or,
Send us an email to dyingoathband@gmail.com